E-Commerce Solutions
Start selling online by harnessing powerful e-commerce tools with your own shopping cart system. Anyone that visits your online store can easily browse, view and purchase products easily and from anywhere in the world. The checkout process is not only simple but extremely streamlined with a variety of different payment methods available, including PayPal and credit cards.
All of our shopping cart websites come standard with a Content Management System (CMS) which includes a versatile backend administration area; here you can manage your entire online catalog. With just a few clicks you can easily add, edit or remove products (with images), product categories, coupon codes and much more. Review orders, inventory and discover trends with detailed reports, statistics and information.
Best of all you can manage your ecommerce platform yourself with no coding knowledge required whatsoever. Of course we at The Rusty Pixel are always available to help manage your website and online shopping cart.
Shopping Cart Examples
Scroll down to check out some examples of our previous e-commerce shopping cart web design work.
Shades Online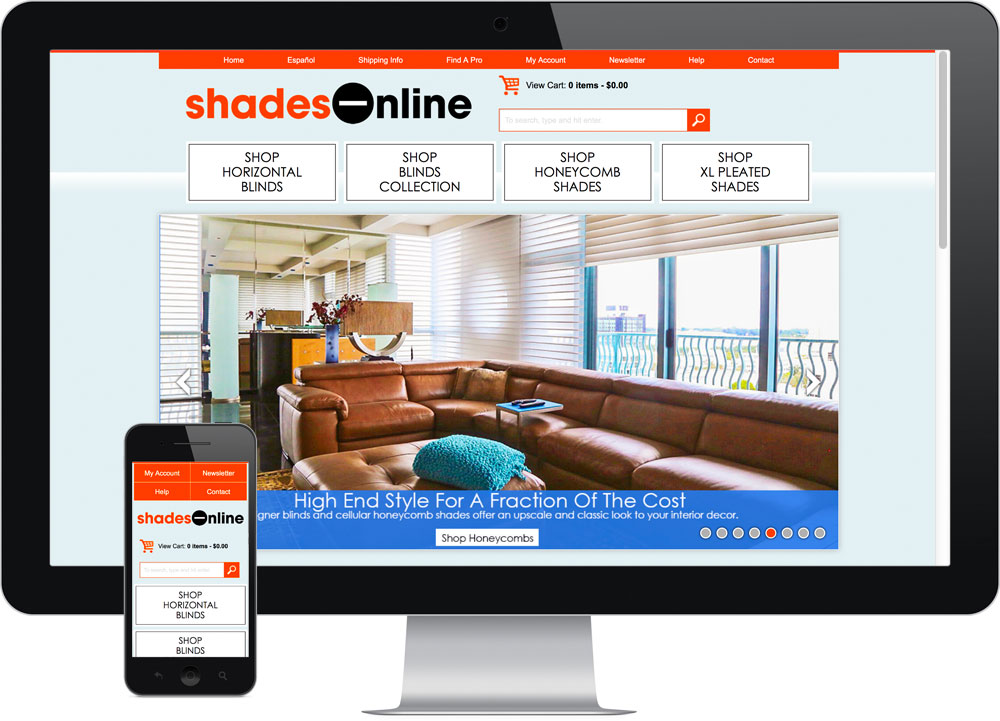 Features

Shopping Cart (E-Commerce)

Facts

Location: Miami, Florida
Client Since: 2006
Specializing in custom window shades and blinds
Code Languages: HTML5, CSS3, PHP, jQuery
---
Face Wrap System
Features

Shopping Cart (E-Commerce)

Facts

Location: Melbourne, FL
Client Since: 2015
Healing wisdom tooth surgery and smoothing TMJ pain/headaches
Code Languages: HTML5, CSS3, PHP, jQuery
Sunset Pergola Kits
Features

Shopping Cart (E-Commerce)

Facts

Location: Bossier City, LA
Client Since: 2016
Specializing in easy to assemble pergola kits
Code Languages: HTML5, CSS3, PHP, jQuery
---
Sullivan's Jewelers
Features

Shopping Cart (E-Commerce)

Facts

Location: Melbourne, Florida
Client Since: 2014
Jewelry, engagement rings, jewelry services and more
Code Languages: HTML5, CSS3, PHP, jQuery
About Our E-Commerce Online Shopping Carts
Start selling global by adding an e-commerce platform to your new web design package. Harness the buying power of the Internet and reach new prospective customers from all over the world. An online shopping cart allows them to shop where they want, how they want and when they want.
At The Rusty Pixel we utilize WooCommerce as our ecommerce solution of choice because it is built with the WordPress Content Management System platform. Since its original release back in 2011, WooCommerce has quickly become the most widely used e-commerce platform available on the Internet today powering over 37% of all online carts (as of July 2016). Another huge advantage of the WooCommerce platform is that it includes all of the great WordPress features and CMS functionality which makes website management a breeze.
One of the best features offered by the WooCommerce e-commerce platform is the streamlined checkout process which is both easy to use and extremely efficient. The entire checkout process from beginning to end only is only a few simple steps and takes just a few clicks to complete. Having an easy to understand and slick checkout process is critical to ensuring that your customers are able to actually complete their orders themselves and encourages repeat business.
With the WooCommerce shopping cart platform managing your stores online catalog couldn't be any easier; Just login to the secure backend administrative area using your own unique personal access credentials. Once at the dashboard you can manage products, categories, prices, photos, coupons, orders, and much more. For those with WordPress CMS experience you will already be very familiar with the layout, functionality and dashboard of the e-commerce interface.
The product control area is where you can add, edit or delete products. Quickly mark any product as a "featured product" which can then be spotlighted anywhere on your website including directly on the homepage. Each individual product can be configured with a custom title, price, sale price, detailed description, featured image, photo gallery, attributes and variations. To make it easier for both you and your customer to quickly find the exact products they are searching for, don't forget to organize them into multiple custom product categories. You can add, edit or remove product categories using the provided console or on the fly when adding or editing products.
The orders console is where you can manage the order from your customers as they come in and is a great place to get an overview of recent transactions. See what orders are new, pending, on-hold or completed and easily update the status as you process them. Accessing a specific order will give you more detailed information about the customer, items purchased, payment method used, order status, notes, and shipping details.
Coupon codes can be submitted by the customer during the checkout process giving them a flat-rate discount, percentage discount or even free shipping. Using the coupon console you can easily manage coupon codes for promotions, sales, holidays, rewards or whatever. Coupon codes can be limited to specific products or categories as well as set to automatically expire after so many uses or on a specific date.
Detailed reports gives you actionable sales data of how your online cart is performing over particular periods of time. Learn which products or categories are your best sellers as well as information about taxes, inventory and your customers.
The e-commerce platform provides many other settings and customization options so it operates exactly as you require. A few worth noting include; Only selling to specific locations, inventory management, tax configuration, currency, shipping methods, checkout options, email notifications and much more.
Customers can quickly and easily find the products they want by browsing featured products, best sellers, product categories or keyword search. Once on the product page they can select their options (if any), desired quantity and then add to cart. The cart page gives an itemized list summarizing their order, shipping options and initial total. After the customer proceeds to the checkout page they will confirm their billing information, shipping details and grand total before choosing a payment method to complete the sale. When an order is successfully processed both you and the customer receive an email notification which includes a detailed summary of the purchase.
Add as many different payment gateway options to your websites checkout process as you require, including PayPal and credit card processing. Choose from payments either being made on-site (customer stays on your website) or off-site (customer leaves your web site). On-site requires an SSL and dedicated IP address to ensure that payments are made securely while off-site security is handled by a third party.
Your customers are also not forced to join your website in order to place an order, making it much easier to convert sales for those who wish to shop as a guest. However, those who do wish to join are given the opportunity during the checkout process.
Whether you are looking to sell to customers across town or across the globe, an ecommerce online shopping cart platform is exactly what you need. At The Rusty Pixel we build online carts that are extremely powerful and versatile, giving you the tools you need to succeed on the competitive world-wide marketplace.
Below you can see a feature and functionality list of what is included with an online e-commerce shopping cart. If you have any questions just contact us or request a ecommerce web design quote.
Online Shopping Cart Features
Easily add, edit or delete products (with images)
Add multiple custom products categories
Add product photos, sale price, detailed description and more
Add product attributes and create variations
Set products as "featured" to spotlight them
Streamlined and easy checkout process
Customers can checkout as a guest or become a member
Customers can make payments online using PayPal or credit cards
Multiple payment processing methods available
Some popular payment gateways include: PayPal, Authorize.net, Amazon and Stripe
Setup of off-site or on-site payment processing
Secure SSL certificate options available
Email notifications
Access backend with unique login credentials
Manage your sales and orders easily
Inventory control and management
Sell to only specific locations
Multiple shipping options available
Set currency and tax rates
Detailed shopping cart reports, statistics and tools
Create discount coupon codes for promotions
Customer product reviews and ratings
WooCommerce platform
Requires WordPress CMS
NO coding knowledge necessary
Easy to learn and use
Shopping cart configuration and customization
Online cart is an optional add-on to any web design package
---
E-Commerce Web Design Melbourne FL
E-Commerce Web Design Melbourne FL Shopping Cart Sites
Sell products online with e-commerce web design Melbourne FL shopping cart platform. Ecommerce website solutions for Brevard County FL web development store